Honolulu, capital and principal port of Hawaii, U.S., seat of Honolulu county. A bustling modern city which extends approximately 16 km along the southeastern shore of Oahu Island and 6 km inland across a plain into the foothills of the Koolau Range.
WAIKIKI BEACH  
Located on the south shore of Honolulu, the world-famous neighborhood of Waikiki was once a playground for Hawaiian royalty and known in Hawaiian as "spouting waters". Today, Waikiki is Oahu's main hotel and resort area and a vibrant gathering place for visitors from around the world. Along the main strip of Kalakaua Avenue you'll find world-class shopping, dining, entertainment, activities and resorts.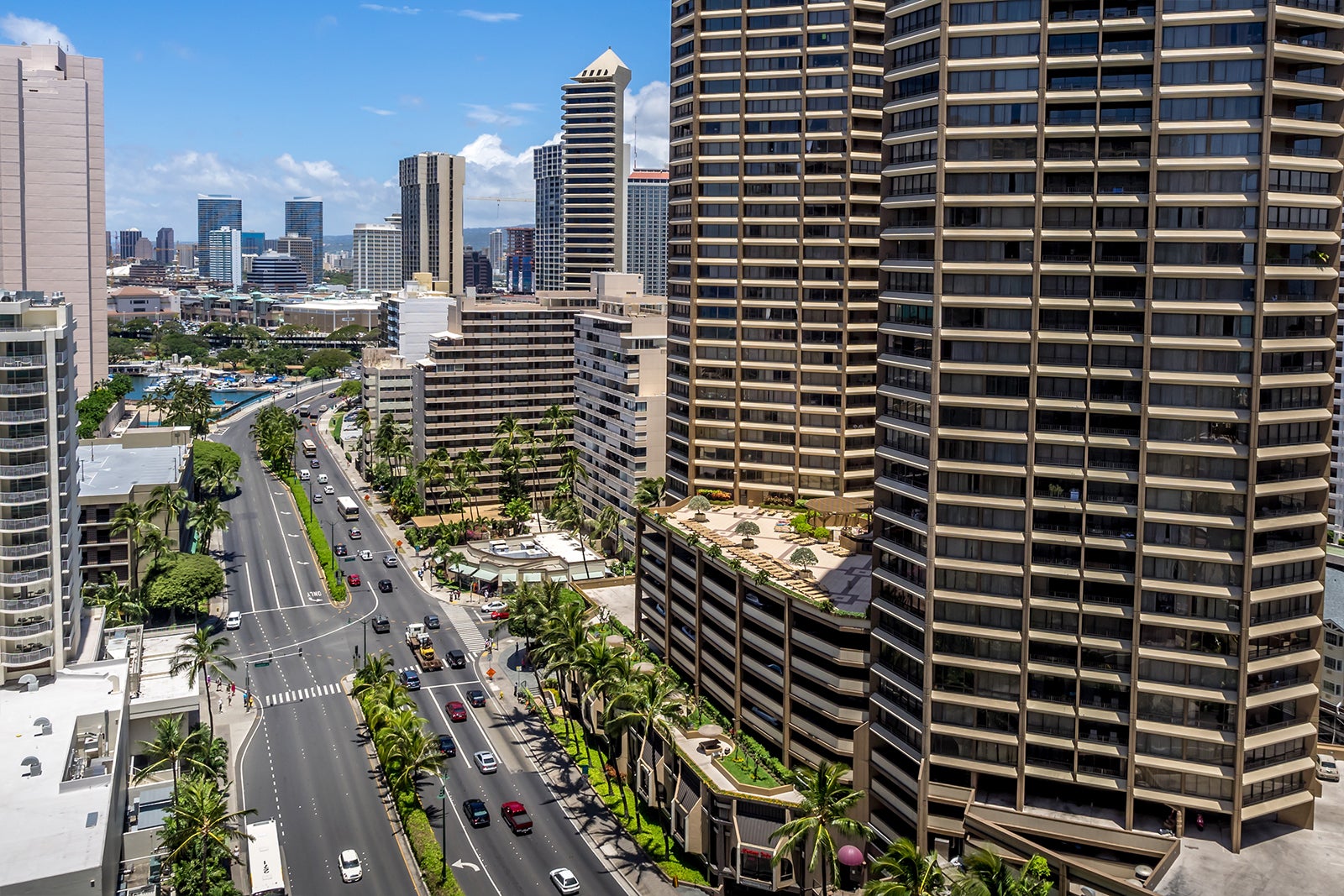 GETTING AROUND HONOLULU
The best way to get around Downtown Honolulu is to walk and explore the different landmarks within the area. By sparing 2 hours and walking for about 2.5 to 3 km, you would be able to get a good grasp and take in the best of Honolulu. There are different walking guided tours which can help you get the best understanding of the history and developments that Honolulu and Hawaii have gone through.
To move around the city, different means of transportation are available. The most affordable way is to jump in a bus and be where you want within 10-15 minutes. However, other alternatives are available, for example numerous ride-sharing apps such as Uber and Lyft. Taxis are also within reach and different cab companies should have similar fares. However, this method is expensive, and you'll most likely have to call ahead. Fares are locally regulated, so regardless of the cab company, you will pay an initial fee of $3.50, plus $5.88 per mile traveled.
Downtown Honolulu is home to some of Oahu's most historic places. Next to the skyscrapers of the island's main business district you'll find important landmarks like the Iolani Palace, theKing Kamehameha statue, the Kawaiahao Church and the Aloha Tower. This area is also the seat of Hawaii's government, home to the Hawaii State Capitol, Washington Place (the governor's mansion) and Honolulu Hale (Honolulu's City Hall). Clustered within blocks of each other, these important cultural landmarks and architectural wonders can be experienced on a leisurely walking tour.